Swimming Pool Inspections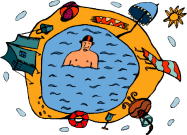 You have a choice when it comes to inspecting pools. I can do a competent but limited inspection for you and will charge you $220.00 extra. However, there is a gentleman in town that specializes in the inspection of pools only. He does an excellent job and more in-depth inspection and I recommend him to all of my clients. His name is Rick English and you can find out more about his services at http://www.poolinspections.com Rick does an amazing job but his pricing starts at $600 for the pool inspection
Preventing Child Drownings
POOLS AND SPAS ARE NOT SAFE. There are over 380 pool fatalities a year and most of them are children under 5 years old. Thousands more require emergency room treatment and too many of those suffer lifelong disability from a near drowning. 65% of these children live in the house and 33% are guests. 77% of victims had been missing for five minutes or less when they were found in the pool drowned or submerged. As the owner of a pool, you are personally liable and responsible to prevent a child from drowning and there are effective measures that you can and should take to greatly reduce the risk.
The best option is to install a permanent fence that isolates the pool from the rest of the yard and the house and this is the option that I recommend that you use. This has several advantages over all the other options. It is in place at all times, needs no adult intervention and allows a young child access to other parts of the yard without allowing access to the pool. There are 5 other options but each of those has weaknesses and some are so bad that I cannot recommend them with a clear conscience. For instance, door alarms are so obnoxious that almost nobody is willing to actually use them. Any option that isn't used has no chance to save a child's life. You must make yourself aware of all the options and make the best choice for your situation. You are responsible to make the changes necessary that could save a life.
The best source of information that I know of is the Consumer Product Safety Commission publication entitled "Safety Barrier Guidelines for Residential Pools" and I strongly recommend that everyone buying a home with a pool read it here: http://www.cpsc.gov/s3fs-public/362 Safety Barrier Guidelines for Pools.pdf  (Click on the link and it should take you directly to the site.) This explains the child barrier requirements that have been used in California from 1996 through 2017. Since January 1st, 2018, California made changes to these standards but there is no publication that I am aware of that has yet done a good job of explaining the new standards. I recommend that you contact your municipal building department for advice on complying with the updated standards. (My biggest problem with the new standard is that it raised the permanent fence option from 48 inches to 60 inches and this seems arbitrary and capricious because even a 48-inch permanent fence is superior to every one of the other 5 options allowed.) It is your responsibility to make sure that your pool enclosure meets the child access barrier requirements.